Final Fantasy XIV: Stories of Departures
Posted on Mon 29 January 2018 • Tagged with Stories, Video Games
This wasn't an easy post to write but I still needed to get it out. You can ignore the following while muttering #mmoproblems to yourself. I won't fault you. I'd still appreciate if you kept on reading though.

I have been thinking. There's an aspect to playing an online game that was somewhat unexpected to me - you bond with people even though you don't personally know them. You log in every so often and run with the same crowd (yes, I totally typoed that into "crown" at first). You check in with the regulars from your Free Company (read: guild). You have a set of people in your friends list. Maybe you have some additional linkshells (read: private group chats) that you like to visit every so often.
There's a certain comfort in seeing familiar… well, not exactly faces. You meet avatars, fantastical characters that sometimes make you forget you're there together with real people. For every player character there's a person sitting somewhere behind a keyboard or a gamepad (well, almost, but botting is technically against the TOS).
I'm not a person to bond or trust easily. That's just my personality. The interaction by proxy, like the ingame avatars makes things much, much easier though. I can still be witty, make stupid jokes, annoy others with inappropriate comments and help them all the while. But if I decide to cease interaction, that's easier too. That's the part where your brain tricks you into thinking even people you have spent many hours with are not important because they're "hidden" behind characters.
I have watched the ebb and flow of people in our FC. FFXIV is a highly cooperative game, so you feel the impact of fellow players not being around anymore. It's not necessarily that you're losing. It's the feeling of loss despite achieving your goals. The lessened atmosphere. The absence of a familiar friendly face.
This post was prompted by someone whom I consider a good friend leaving the FC. But the thoughts behind it have been true for a while now.
Departures
Whenever people leave I wonder what their reasons were. Were they unhappy? Did they get into an argument? Did their friends wander off? Or perhaps something else alltogether?
I try to talk to people, then. Yes, talking is hard, I get that. However, I consider not trying a personal failure. It's not that I have the need to convince people to return. My curiousity drives me to learn their reasons for leaving so that perhaps the FC can be a more friendly place in the future with fewer reasons for members to leave.
memories
I remember a while ago when a group of friends left. They were open to discussion and it was clear from the beginning that the group had only sought temporary refuge at The Black Crown. Them leaving to start up their own Free Company was a decision that was given a lot of thought. They are still open to communication and it was a pleasure to host them as long as it lasted.
I remember someone leaving who was a roamer. It's hard to quantify how many of players are this type of person, but they did not stay long in any FC. They even said so up front and close to no one gave it a lot of thought when they left, eventually. It hit a bit harder when their partner in crime left because they had earlier stated they would not leave together, but it wasn't completely unexpected either.
I remember talking to Kakysha's big brother at length why he left his previous FC, how he talked about a feeling of not belonging and why he preferred to play in solitude for a while. I think he described it as feeling alone in a crowd. I've suggested back then that perhaps it was not the right crowd for him while at that time not directly inviting them into our FC because I felt that was tactless. I merely stated he was welcome should he ever want to join. Kakysha and her brother rarely meet - Eorzea is a big world after all, but they enjoy each other's company tremendously.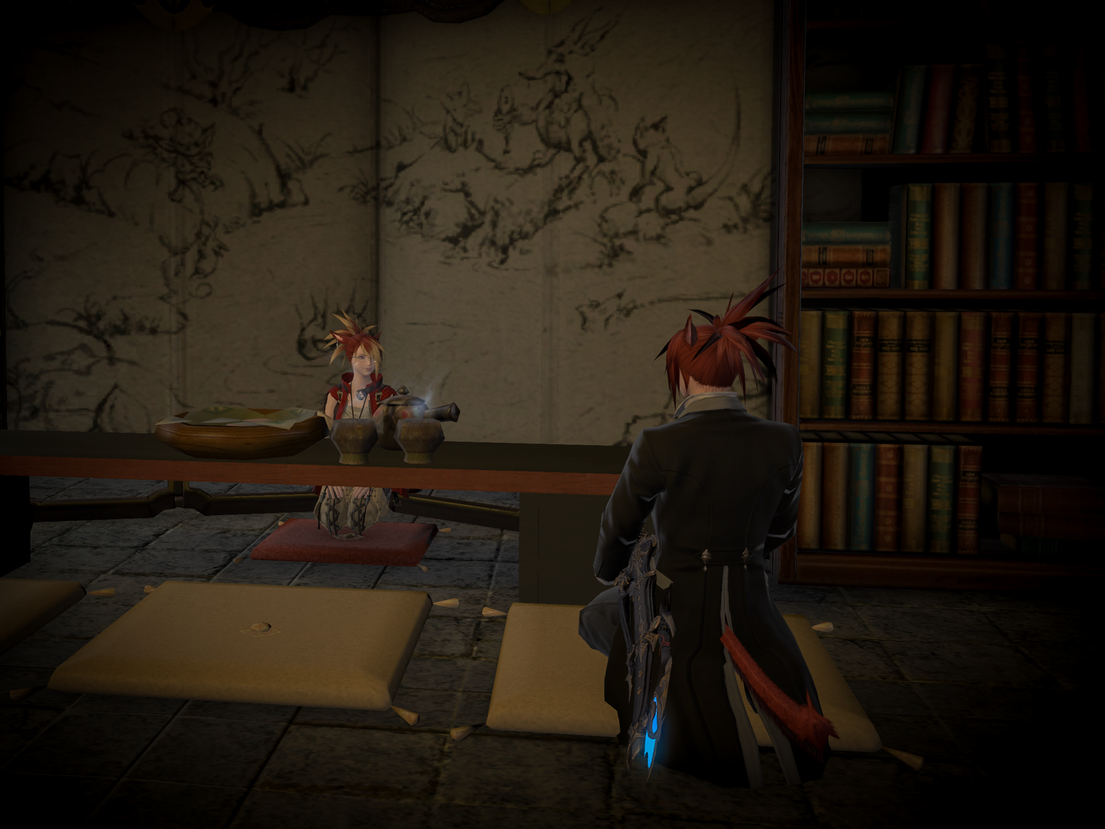 I remember my honored friend leaving with neither farewell nor complaint. It still hurts. I inquired for their reasons and received a vague answer that perhaps it was due to an argument or something that another person might have said. Polite inquiry would not reveal a more concrete answer and I respect my friend too much to be nosier, even though I'm implictly required to be since my recent promotion to a leadership position in the FC. I was merely saddened that they neither tried to talk to leadership nor the person(s) in question. Without pointing out what exactly was wrong and talking through both actions and consequences, how can we strive to improve the trust and respect that I feel we owe our members? How can I try to provide sprouts (read: newcomers still in the early stages of the game) as comfortable a home as the Seraphs provided me when I was full of disappointment about my previous FC?
Should you read this, friend, good bye but not farewell. Know that you have a place at Crown, should you want to return.
closing
Kakysha sends her greetings from Tamamizu where's she's still trying to gain the favor of the Kojin people so they grant her permission to obtain a striped ray. She's looking forward to meeting the Ananta people though because she heard they are breeding elephants. Our favorite adventurer loves elephants. She said to tell you she's sorry this isn't a more story-heavy post.